Plenty to do in the neighborhood this weekend.
The weekly Phinney Farmers Market is from 3-7 p.m. Friday, 6532 Phinney Ave. N., in the lower parking lot. Click here to see what's fresh at farmers markets this week.
Tens of thousands of people will attend the Fremont Fair and Saturday's Solstice Parade, and get an eyeful of the naked bicyclists.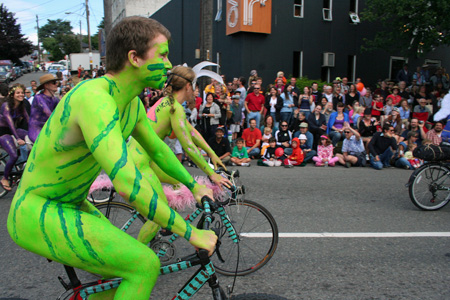 Whitman Middle School students will be busking at Ballard's Bergen Place Park on Saturday afternoon to raise money for the family of their classmate, 13-year-old Joseph Gebregiorgis, who died in last weekend's fatal fire in Fremont.
Catch live World Cup action on the big screen at the Phinney Neighborhood Center at 7 a.m. Saturday as Ghana takes on Australia. Doors open at 6:30. Then it's Denmark vs. Cameroon at 11: 30 a.m. On Sunday, it's Brazil vs. Ivory Coast at 2 p.m. Suggested donation of $3 for adults and $2 for children. Food and face painting available.
Seattle Parks and Recreation is holding a life jacket sale at Green Lake's Evans Pool from 10 a.m. to 2 p.m. on Saturday. All sizes from youth to adult will be available for $20.
Saturday is the Monthly Community Cabaret at Couth Buzzard Books Espresso Buono Cafe at 8310 Greenwood Ave. N., from 7:30-10:30 p.m. For mature audiences.
For more events in the neighborhood, check out our new and improved events calendar.